Welcome to
Joe Leonard's Custom Woodcarving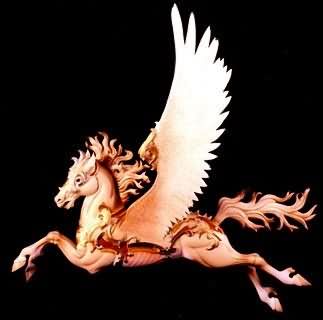 Joe Leonard's Custom Woodcarving studio is located in Garrettsville Ohio. His pieces have won numerous awards and are enjoyed by collectors worldwide. Every Joe Leonard carving bears the traditional attention to quality and detail that has gained him international recognition.
Although he is most known for his Carousel Horses, Joe is also well known for the custom work he does for churches, contractors, television commercials, theatres, and amusement parks.
From Carousel Horses to one of a kind fantasy pieces, Joe Leonard's Custom Woocarving is a full service carving studio that can bring any idea to reality.
The new Workshops Schedule is out and filling up fast. Every wood carving workshop is led by Joe Leonard. Joe's Carousel Horse carving classes have proven to be very popular and have helped many people get started in carving or to take their skills to a new level. This year Joe Leonard will be offering Unicorn, Wizard Staff and Dragon carving classes along with his traditional Carousel Horse carving classes. Be sure to check the updated Workshops Schedule page for all the details.

carousel horse, carving classes, carving workshops, church, pews, altar, baptismal, communion, credence, lecturn, tabernacle, furniture, woodcarve, carve, carnival, woodcarving, wood, rocking horse, rocking rabbit, poplar, maple, oak, bass wood, mahogany, walnut, hand carved, Euro Disney, Muller, Dentzel, Spielman